What is EFT Items?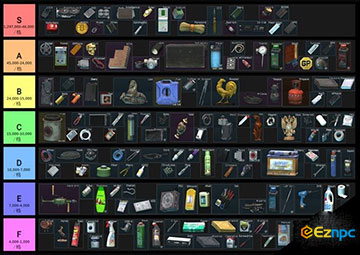 The main RPG elements in the Escape from Takov are the inventory system, the rating system, and the personal skill upgrade system, including combat, plundering items, healing, exploration, lock picking, etc. The skill upgrade system is somewhat similar to The Elder Scrolls. The same action is upgraded multiple times, and player attributes can be obtained through learning. Escape from Takov items is used in crafting Weapons in the game. Once bought, items are categorized, organized and placed in different lists. Weapons are necessary for defense, attack, and offense. EFT Items Also includes Keys, Case, Other More, Which Form The Cornerstone Of Survival Within the game.
Escape from Tarkov supports many different modes. Players can't be reborn immediately. After death, everything they find in this area or bring to this area will disappear. When the game starts, the first and main game mode is story mode. In the story mode, the game map is a semi open area of about 5-10 square kilometers. Players must continuously clear all raid points. According to the story, there are several opportunities to leave in the middle. After completing a chapter (about 1-1.5 hours), the next one will be unlocked. Players can go back to the previous chapter to search for specific Escape From Tarkov items or a more detailed area exploration, which will complete the branch task. There are many high value EFT keys, and Cases for sale, help you Enjoy game easy!
Reputation
Eznpc is a reliable website for Buy Escape From Tarkov Items, which has an excellent reputation in the market. Eznpc have tons of 5 stars positive reviews from real Customers. There are no spams here, and we have been improving service by being honest, friendly, and helpful. Eznpc goal is to provide EFT Fans with the most outstanding and professional service, including a smooth service, fast delivery, and low prices.