What is Growtopia Items?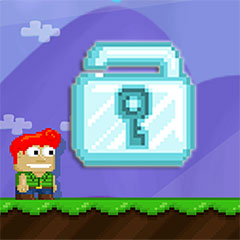 The Diamond Lock allows players to trade items, when combined, worth more than 200 x World Locks in a single trade. Its icon in one's inventory can be double-tapped again to change it back into 100 World Locks.

The World Lock considered being Growtopia's main currency. When placed in a world where other players have set no other locks, a World Lock proceeds to lock the world as a whole, giving the owner of the lock full control over the world and a bright green name while they are in the world. By default, only the world's owner has access to modify the world, but they can add other players to the lock, who will then given light green names, whereas the owner's name is a darker shade of green. Players who offered access must wrench themselves and accept the entrance to be given access.

This Blue Gem Lock is added along with the Stuff! This lock can be obtained from the Sales-Man for 100 Diamond Locks. It can be shattered back into 100 Diamond Locks upon double-tapping it in the inventory.
What is Growtopia ?
Growtopia is an original mini-game with an American style, crafted by the developer Robot Wants Kitty. The developer is good at creating cartoon-type leisure games and brings a lot of joy to players with its innovative spirit and luxurious experience. Although the game brought back this time is a retro pixel style game screen, it does not affect the display of the creative concept. The game has "Super Mario" action-solving elements, as well as MC-like development elements. The protagonist of the game can flexibly set up his way out. There are abundant modules and building materials to choose from, and multi-player participation is allowed. Players can help each other, increasing game playability. The scenery is very detailed, including flowing clouds, misty smoke, and even dialogue expressions between characters. The ultimate goal of the player is to create a sandbox Growtopia of his own using various strange building materials while going through the levels.
Growtopia Items In Eznpc
Players can build the sandbox World in Growtopia by buying Items. Players can buy Diamond Lock & World Lock & Blue Gem Lock for any platform at Eznpc, which is the most trusted Growtopia Items seller on the market. Compared with many sellers on the market, Eznpc has a distinct price advantage. Buying the same amount of Items from Eznpc will save you more money. Eznpc is fully stocked and can usually be delivered quickly within 5 ~ 10 Mins. If you have any questions, please contact our 24/7 Friendly online customer service for answers.